Resumes for Project Management Professionals
Resumes for Project Professionals | Cover Letters | Selection Criteria Responses | Expressions of Interest | Application Questions
CALL: 1300 526 257
To find out more about our Project Manager and Business Analyst resume and job application services
PROJECT DIRECTORS | PROJECT MANAGERS | SENIOR BUSINESS ANALYSTS | DELIVERY MANAGERS | IMPLEMENTATION EXECUTIVES
Writing Resumes for Executives and Professionals in Project Environments
Resumes for professionals who work in short-term contract and project environments have some unique challenges.
Chief amongst these is the risk of resumes becoming long lists of project titles. If you're applying for a Project Manager or Business Analyst role, the chances are that the rest of the applicants are also putting in resumes listing previous projects. How then to stand out from the crowd?
In the first place, the personal profile or summary on the first page, is a key opportunity to articulate your approach to project management and what it is that has made you successful. Perhaps you have been instrumental in rolling out Agile methodologies and running Scrums?
On the other hand, perhaps you are the person parachuted in to get projects back on track, known for your ability to re-engage stakeholders, run baseline analyses and get at-risk projects back on schedule and in budget. Whatever it is that sets you apart, this is your opportunity to show why someone should hire you.
Because this is an opportunity to stand out, the worst thing you could do here is write something generic. Listing adjectives like dynamic, energetic and results-oriented serves no purpose other than to sound just like everyone else.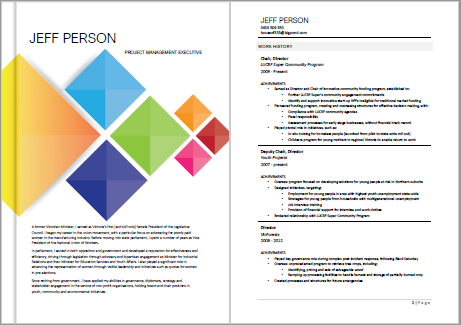 The rest of your project management resume is where you prove the claims you made in the profile. By all means list the projects you've been involved in but take a minute to explain what made them interesting. Were they large in terms of personnel or dollar value or complex because run across different countries and time-zones? Did you bring the project home faster than expected or at lower cost? As a result of the project, what new functionality did you bring online?
Additionally, employers increasingly want to see their key personnel contributing at a whole-of-organisation level, so, as well as the projects themselves, don't forget to mention internal continuous improvement efforts, mentoring of junior personnel, contribution to rolling out new project governance processes and anything else that shows drive and value-add.
Project Director and Executive Positions
For Director or C-suite roles, you will need strong communication skills to position project delivery as a trusted partner to the rest of the business, the human intelligence to get the best out of their team and the commercial acumen to align efforts with organisational strategy.
So once you step up into executive roles, it is important to cover the full range of relevant skills, both technical and project-based.
At this point, your resume must be intelligible to a non-technical audience. Communicating high quantities of information without impacting quality requires thought regarding structure, format and content.
Our resumes help you parse and articulate your skills and key achievements, whilst taking out repetitious content so that the final document is clear, concise, intelligible and impressive.
To see how we can help you showcase your technical proficiencies and stake out a point of difference, send us your old resume today to: send@sendresu.me or call 1300 573 894 for a chat about your requirements.